FraAlliance takes control of the joint "Lost Properties Office"!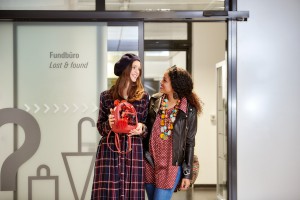 Since the founding of FraAlliance GmbH, we have been responsible for the joint "Lost Property Office" of Fraport and Lufthansa at Frankfurt Airport.
By merging formerly separate lost property offices, all passengers, who have lost their belongings at the airport or on Lufthansa Group flights to Frankfurt, now have one single point of contact. It is located in Terminal 1, Level 0 and can, of course, be reached online via Lost and Found at Frankfurt Airport (frankfurt-airport.com).
People who have lost their belongings are mostly in a lot of stress and dismay because they fear they have lost their belongings for good. Giving them the possibility to have one single point of contact, where they are being assisted, helps them to relax and feel supported.
The Lost & Found Manager, a well proven software to match lost and found items, is being used to increase our matching rates ensuring that almost all lost and reported items can safely be returned to their owners.
FraAlliance business partners in the Lost Property Office are ARGE Sasse Aviation and Getsteroo GmbH.
For further information on this project, please contact info@fraalliance.de.