Testing the world's most innovative security lane at Frankfurt Airport!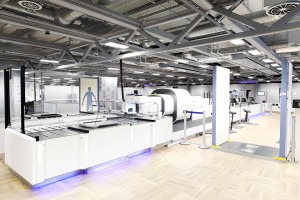 Creating Europe's best security controls for the benefit of all passengers at FRA. This has been our project goal for the past months.
Enhancing the passenger experience where passengers do not have to unpack their hand luggage and separate liquids and electronic devices, a better working environment for security agents, less space to fit a security lane while increasing its throughput, increasing efficiencies and reducing the overall investment volume, were the KPIs we were looking at. FraAlliance is heading a project team including participants from Fraport and Lufthansa and the Federal Police to evaluate, implement and test innovative security checks at Frankfurt Airport's Terminal 1. After intensive market search and benchmarking, we found the MX2 from Vanderlande industries. The first security lane concept of its kind in the world connects two lanes with only one CT meeting the highest security standards.
Our pilot project has been configured for the needs of Frankfurt airport including CT technology provided by Leidos with its ClearScan. CT technology eliminates the need to unpack hand luggage and therefore significantly reduces the time passengers spend at security checks. The lane also has a fully automated tray return system, the first of its kind at Frankfurt airport and the screening analysts are situated not next to the lane but in a separate remote screening room which marks a novelty at German airports.
The MX2 was installed in Terminal 1 hall A right on time as Fraport assumed responsibility for the organization, management, and performance of the security checkpoints at Frankfurt Airport starting January 1, 2023.
January 9th was the start of the test phase of the MX2 lane concept. Ever since the lane has been tested in different scenarios to evaluate the results and come to a best possible final configuration and smooth processes which meet our project goals.
The project's initial results look very promising supported by a very positive passenger and employee feedback.
For further information on this project, please contact info@fraalliance.de.